Corfu Island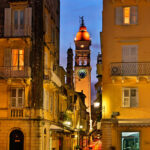 Corfu Island is a place of great natural beauty with rich vegetation and a fascinating coastline. There are mountains, rivers, lakes and many traditional villages such as Pelekas, Agios Markos and Kassiopi that are definitely worth exploring. Corfu has many pebble and sandy beaches. Most of the larger beaches have umbrellas and sunbeds (at a price), and water sports facilities. If you are after a peaceful sunbathing session in a secluded cove, you will not be disappointed either. Just ask Eleni at Spiti Prifti reception for the best places.
The town of Corfu is famous for its historic sights. Countless visitors have been charmed by the picturesque cobbled streets of the Old Town, with its Venetian architecture and washing lines strung between the narrow buildings. Corfu town's central square with its grassy cricket pitch and famous Liston colonnades was built in 1820. It's ideal for people watching and a long cup of coffee in one of the many cafes there.
Beaches and places to visit in Corfu
Corfu has a wealth of wonderful places to visit from the Old Town with its stunning Venetian architecture and fortified walls to the Monastery of Pantokrator with its breath-taking panoramic views of the island and beyond. The northeast coast has many pretty coastal villages with plenty of great restaurants where you can enjoy fresh fish dishes just metres from the glass-clear sea. Our favourites are Kerisia, Agni and Kalami (home of the actual Durrells house 'The White House') but there are literally dozens of small bays with unspoilt beaches to explore.
To the northwest of the island, you'll find both a rocky coast and some sweeping sandy beaches. In the area around Palaiokastritsa, there's great snorkelling, plenty of beach bars and restaurants plus some fabulous views. For people who enjoy hiking, you can also enjoy peaceful walks through olive groves as you make your way to Angelokastro an ancient castle with stunning sea views.
To the southeast of the island, a coastal road takes you through many delightful seaside villages and you'll find a mixture of sandy and pebbly beaches. A great place to meander, stopping off at roadside cafes to take in the views and enjoy a cooling dip in the sea. In the area, to the southwest of the island, you can find the inland Lake Korrisson and the surrounding nature reserve which is a birdwatcher's delight. This part of the island boasts long sandy beaches some with funky beach bars and a party vibe and some quiet, almost deserted and serene – whatever suits your mood.
There are far too many stunningly beautiful places to visit on Corfu, there are far too many great places to eat and drink, far too many great places to get lost in tranquillity… so for the best advice talk to us and we'll make the best suggestions to help you gain the maximum from your stay on the island.
The Cultural treasure of Corfu
The island of Corfu is also well known for its cultural treasures and natural beauty. Try to take some time in your holiday if you can to enjoy just a little of what it has to offer that is so special.
Like many other Greek islands, Corfu has many old churches. One of the most notable in the heart of Corfu town is dedicated to St Spyridon, the patron saint of Corfu. The most characteristic Corfu sight is the green island of Pontikonissi (Mouse Island), just outside Corfu Town and well worth a visit. About 9Km outside Corfu town is the Achilleion Palace, the summer home of the Empress Sisi of Austria in the late 1800s. It is a splendid neoclassical building with impressive gardens, a great view and works of art dedicated to ancient Greek ideals and the heroism of Achilles.
Other historical landmarks of Corfu are the Old and New Forts, the Palace of Saint Michael and St. George, the former Town Hall, (San Giacomo theatre), the palace of Mon Repos where the Duke of Edinburgh was born and the Byzantine Art and History museums.
Gouvia and Kontokali
Gouvia Marina
Gouvia is a short walk (5 minutes) from our apartments and boasts a range of restaurants, cafes and bars with a wide range of local and international cuisine available. You'll also find small shops selling tourist goods as well as mini-marts and companies offering island excursions, motorbike hire etc. The beach at Gouvia is small with sweeping picturesque views of the bay and has facilities such as sunbeds to rent and a beach volleyball court.
This area was chosen by the Venetian sea captains of the 17th century as the most suitable location for the creation of a naval base and a shipyard. Gouvia Bay provided a natural connection between the Adriatic and Mediterranean seas.
In the tradition of these old sea masters, today's visitor enjoys a fully organised, high-end marina at Gouvia accommodating up to 960 boats, (up to 60 metres long and 6 metres depth), for short or longer-term docking.
Gouvia marina features the full range of visitor and marine services for experienced sea masters or sailing enthusiasts alike, (food provisions, launderettes, etc. ). Full local technical and engineering support services and taxis or car rental agencies are available on site. Your security is guaranteed within the marina area, with 24-hour security checks at both marina entrances.
Kontokali
Kontokali also boasts a selection of restaurants and bars as well as a fabulous bakery with all sorts of tasty treats on offer. At the far end of the village is a location for the TV series 'The Durrells'. The beach at Kontokali is sandy and has sunbeds to rent as well as an excellent but inexpensive café/restaurant that is a favourite with tourists and locals alike.
---
Want more information?
---
Ready to have the time of your life?
Get the best price directly on our website!